Tatjana Puklavec named wine woman of the year 2022
10/01/2023
Winner announced in the Wijntheater during Gastvrij Rotterdam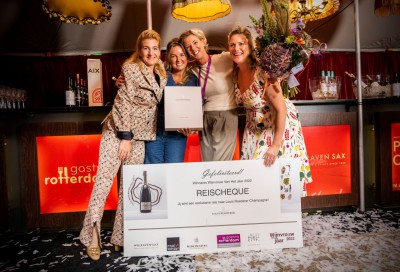 On Tuesday 20 September 2022, the professional jury of Wine Woman of the Year named Tatjana Puklavec Wine Woman of the Year 2022. The award was festively presented with a spectacular final show in the Wijntheater during Gastvrij Rotterdam in Ahoy. Winner Tatjana Puklavec is at the helm of the family business Puklavec Wines in Slovenia. The jury chose Tatjana as the winner because of her ambitious vision, professionalism and accessibility. After the award ceremony, guests enjoyed wines from the Walraven Wine Bar, where the four wine brands that have sponsored the past four nominations were served. From the 60s baking moped a Fruits de Mer buffet was served and the oyster man walked around to provide guests with fresh oysters. This fourth edition of the election was again a successful party, on to Wine Woman of the Year 2023!
Jury and votes
Last year, a wine woman of the season was nominated every quarter. From these preliminary rounds, four ambitious women from the Dutch wine world emerged. Contenders for the coveted title were Jolande Vos, Liesette van Eijnsbergen and Rianne Ogink. The nominees were judged by a professional jury of hospitality and wine professionals. The jury consisted of Barbara Verbeek, Claudia van Dongen (Wine Woman of the Year 2021), Magda van der Rijst (Wine Woman of the Year 2020) and Birthe van Meegeren (Wine Woman of the Year 2019). The choice for this year was difficult, but ultimately fell on Tatjana Puklavac. The jury is impressed by tatjana Puklavec's longevity. When she took over the family business Puklavec Wines, she had a clear vision. Her dream was to sell wine all over the world and to be available in the Netherlands at certain points of sale. She has now succeeded in doing so with some detours. Tatjana is professional, accessible, has a good marketing vision but she is also an amiable woman. For these reasons, she is the best choice for the Wine Woman of the Year 2022.
Wine Woman of the Year 2022
The wine world is changing. In recent years we have seen more and more powerful, energetic and driven women who are committed to the wine world in a special way. With their work, passion, knowledge or creations, they make the wine world even more beautiful. According to initiators Barbara Verbeek (Wijntheater) and Clarissa Slingerland (MissPublicity), the women in the Dutch wine industry are unique. These women work hard, inspire, are creative, colorful and often a stimulus for other women. It is high time to put these wine women in the spotlight. In 2019, Clarissa and Barbara founded the Wine Woman of the Year Foundation. Core values for the award include accessibility, connection, professionalism, knowledge and ambition.