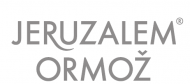 Jeruzalem Ormož is very well known in Slovenia. It is a progressive quality brand that strives for renewal and diversity, it is reliable and modern. People choose for Jeruzalem Ormož when they want guaranteed quality and ensure that they have a delicious glass of wine in their hands. 
A bottle of Jeruzalem Ormož guarantees a flavourful experience; these wines are noted for being both aromatic and refreshing.
Made at the cellar in Ormož, these wines benefit from the modern method of winemaking. The region of Ljutomer- Ormož
 provides perfect conditions for growing white grape varietals. We have found the perfect match between grape variety and soil composition.  There are 11 types of white wine, 3 red wines and 5 sparkling wines available. Jeruzalem Ormož is truly a top shelf brand in the Slovene hospitality industry and supermarkets and with good reason.